Heart of Elk From Margaret, Sunday July 13th, 2008, 11:57pm
Yesterday we sent out our invitations. Hooray! It was quite the process, despite our insistence that it not be a process. We visited stationary stores and were horrified to learn what people pay for wedding invitations. We knew we didn't want the traditional white, formal invitation with the "suggested" wording that you find in all the wedding books. We wanted our invitations to be colorful, bright, and to represent the party atmosphere that we are trying to create for the big event. We procrastinated, researched, procrastinated, and finally decided to order from this fabulous website- www.weddingpaperdivas.com . We then went through the variety of different ways to basically say- "We love you and want you to come to our wedding." It's hard to say- trust me. But we did it, and got the package of invitations quickly, with enough time to send it within the 1 ½ month minimum time frame that "they" recommend. We then spent a long time designing inserts, labels, etc. etc. Brian has been working on a fabulous online rsvp for our computer-savvy guests, and we had several nights where we stayed up until 1:30am doing something related to the invites! Kind of reminded me of college…...I stuffed, Brian programmed and printed….. all we needed was a 6-pack of Mountain Dew to make it through the night.
After several days of getting everything together, we rushed to our local South Philly post office where the characters are plentiful and the service is slow. After everything was ready to go and all invites were stamped with a lovely wedding-like heart stamp: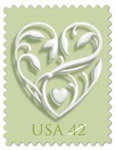 we learned that we did not have enough postage on our invitations. So we went from the wedding heart to the heart of elk
OK- I admit it. I was pissed. I had a case of the "it has to be perfect" blues, and was not happy about having an animal with horns on our invitation. Brian reassured me- no one will notice. Really? But I always notice these things- doesn't that mean that everyone will wonder why the hell Brian & Margaret are using an elk to symbolize their love and commitment to each other?
So when you see your invitation in your mailbox, and you are puzzled by the combination of stamps, please don't tell us how strange you thought it was. We're a bit sensitive right now. But really-we do like to do things outside of the norm, without following the rules of wedding planning tradition. Maybe there is meaning behind the elk fiasco. Maybe it's meant to tell us to stop taking things so seriously and to have a sense of humor about things like invitations.
And by the way---speaking of a sense of humor? Can you also not mention that it's actually a Bighorn Sheep and not an elk? That has really just put the icing on the cake.
---
Margaret's shower From Margaret, Monday June 23rd, 2008, 10:12pm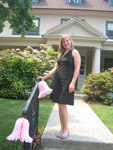 Margaret had the pleasure of attending a wonderful shower on 6/14/08 . Hosted at the home of her dear friend and former employer Jeanne Burd (who snatched her up off the street within minutes of moving to Pennsylvania to secure childcare for the next 10 years), there
were at least 20 fabulous women there to shower Margaret with love, support and gifts. Margaret's amazing friends Carolyn & Mandi were the people she trusted the most to help make this shower the perfect, Margaret-friendly shower. It was by far the best one she has ever been to--and she's been to many! Her friends took her seriously when she offered words of advice: please: no games, no frills, nothing fancy, and can we avoid that ribbon hat thingy? It was perfect. The food- phenomenal. The desserts?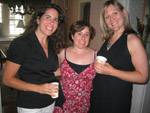 Well let's just say Strawberry Shortcake brought by Mandi, Jeanne's famous brownies and award-winning Ilisa's fruit tart. Somehow a ribbon hat was created and got attached to Margaret's head and she's still not sure how that happened. Only Margaret's former supervisor Eda could get away with making her go through with it, and only Nathalie could actually get it on her head. Ah well, it's all in good fun!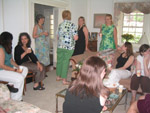 It was a room full of wonderful women that included friends, mothers, social workers, aunts, and colleagues from various points of Margaret's life. Margaret has been reflecting on the amazing network of people she has surrounding her. These women represent all that she values: educated, strong women, loving daughters, nurturing and caring mothers, silly, hilarious friends who make you laugh so hard that you can't breathe, loving and supportive partners who fight and make up, who support each other, who love each other and who continue to make each other laugh no matter what.
Thanks for an amazing day. And for all of the wonderful and generous gifts!
Love, Margaret
---
Tasting Fever From Margaret, Sunday June 8th, 2008, 4:12pm
This weekend was filled with tasting. Our local neighborhood "wine guy"- Philip has joyfully taken on the task of hand-selecting our wine for the wedding. Phil is notorious for finding the best quality, affordable wine at some secret store that he refuses to tell us about. All we know is New Jersey. We won't rat you out Phil!
So Brian & I were invited to come to Phil & Ginny's house (Ginny has known Margaret since she was a baby, and has become a good friend and social work mentor to her) without delay, to sample a variety of wines and make a selection so that Phil can snatch the rest of the bottles up at the secret store.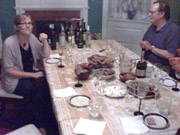 We arrived Friday night after Margaret's private practice Open House to find the dining room table beautifully arranged with about 20 bottles of different wines. In true Phil & Ginny fashion, they took the wine tasting party seriously and researched what appetizers go best with wine, and help to clean the palette in between tasting: fresh mozzarella, eggplant, fresh strawberries, salty crackers, and bits of sausage. Yum! Margaret's mom joined the party and helped us decide on what wines we liked best. She is still making fun of us for pretending to be wine snobs. We won't spoil the surprise, but it was a successful night of sipping wine, laughter and thinking about how wonderful our friends and family are. Thanks Phil & Ginny!
We woke up early on Saturday morning to go to our next tasting event at The Night Kitchen Bakery, where we will get our wedding cake. How nice to arrive and find a table reserved for us, to be told that coffee is on the house (yippee!), to have books of beautiful cakes to look through while we are served individualized cupcakes in a variety of their most popular flavor combinations. Mocha buttercream, lemon curd, carrot cake, chocolate raspberry….mmm…what a way to start the day! We made a decision on the flavors, but are still designing the cake itself.
We're enjoying all of this fun planning and can't believe that we're now at less than 3 months until the big day. We can't wait to get the party started!
---
From Brian, Wednesday February 13th, 2008, 4:12pm
One of the many things that appeals to us about Philly is its diversity and the idea that one city can boast so many varying flavors. Margaret and I, being stalwart Philadelphians, liked the idea that we were having our wedding in Philadelphia, but that it wasn't in the congested Center City area, but rather in one of the beautiful arboretums here. It was this idea, the variety, that we wanted to infuse into our Save the Date mailing.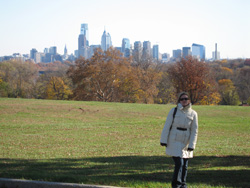 We made our way to Belmont Plateau the weekend after Thanksgiving. Its elevation gives it one of the great views of the skyline, but with trees and a park in the foreground to give the feeling of being near the city, but not necessarily being in the city. The trees also harken to the Morris Arboretum where the whole thing takes place, of course, so it was precisely what we were looking for.
We took lots of great pictures at the Belmont Plateau. Several days later, we selected our snapshot to use and went about laying it out, figuring the type, and, of course, Photoshopping out that half-built Comcast monstrosity.
We felt pretty pleased with ourselves. Man, were we ahead of the game, which is so rare for us. All that remained was printing it out. How hard could that be? We started shopping around for paper. We tried different colored paper, different paper sizes. I couldn't quite get it to print right on my printer. Christmas came. Shopping needed to be done. Parties needed attending. Every so often, I'd throw some of the not-quite-standard sized pieces of paper into the printer and try running some off, but they never quite turned out right and I'd give up, frustrated.
Weeks passed. New Years came and went. Had it been a month since we'd framed it out? More than a month. Margaret started getting anxious. I started yelling at my printer. Seemingly overnight we'd gone from being way ahead of the game to being in our more usual position, behind the eight ball. In desperation, we went out and bought 100 envelopes and 100 pieces of paper to jumpstart the process again. Unfortunately, my printer just wouldn't work with the blue pieces of cardstock, they were too small. Realizing this, I took it around Philly to different professional printers with a sample card and the image. No one would touch it.
"What you should have done is print it on one 8.5 x 11 sheet then cut it down," I was told over and over again. Yeah, that's what the last guy said. Listen, I mean, what do people do? They sell this paper for a reason, there must be a way to print on it. "Yeah, there is, but it's a pain. It'd be worth it to me if you were printing thousands of them..." I was told.
It was beginning to look like we were going to have 100 pieces of blue card stock laying around to wing at each other. We were relating the story to our friend Ilisa told us that she'd printed a portion of their Save the Dates on a vellum-type paper then cut them down to squares. Margaret and I looked at each other wide-eyed. We'd print the image on frosted paper in sheets, cut them down, then mount them onto the pieces of cardstock.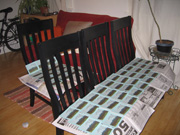 So, with much thanks to Ilisa, and after many cut fingers, spray glued hands, and one discolored spot on our kitchen table where the glue seeped through, I give you the origin of our Save the Date cards. If you got one that was applied a little crooked, or was a little spotty or had newsprint on it, know that, while not quite perfect, know that they were assembled with equal parts love (for you, our beloved friends and family) and joy (at being so close to being done with this project).
But I guarantee you, we will be sending our invitations out to be printed.