MORRIS ARBORETUM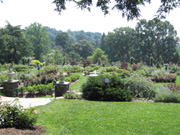 We are thrilled to be having our wedding at Morris Arboretum. Located within the beautiful Chestnut Hill area located in the outskirts of Philadelphia, Morris Arboretum is over 40 acres of varied gardens, beautiful scenery and Victorian structures.
It was originally the summer home of John and Lydia Morris in the late 1800s and was then called "Compton". When they bought the land, it had poor soil unfit for gardens. After many years of attention, they transformed the grounds into a lush landscape. It was John and Lydia's vision that Compton be a place of learning as well as beauty, so it come under the stewardship of the University of Pennsylvania. It was renamed Morris Arboretum in 1932 after its benefactors.
To learn more, visit the Morris Arboretum website.
The Arboretum will be closed to the public around 4:30pm for the wedding. Our guests will have full access to the grounds throughout the ceremony and reception.