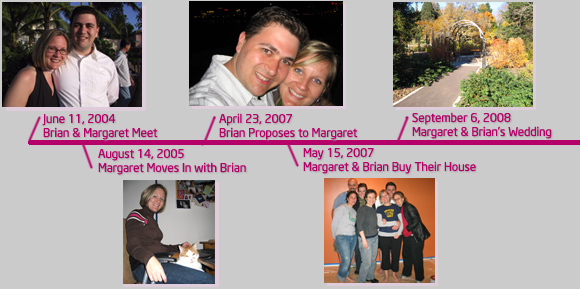 How we met?
Well let's just say a mutual friend. If you can read between the lines, and you know about Brian's profession, then you'll probably figure it out. Everyone's doing it, you know. How else do you meet people these days?
Our first date:
Dinner- White Dog Café in West Philly. The perfect spot- close to Margaret's apartment, filled with a socially conscious vibe, wonderful food and atmosphere. Brian was late. He's never late. But he also made it to meet Margaret for the first time, after spending the night moving his entire computer network from Philly to NJ. All did not go according to plan, Brian got delayed, he didn't have Margaret's number, but managed to track her down by calling information. Margaret's first thought when getting the call? Uh oh. Another one of these huh?
We met, we instantly connected. There was never a lull in conversation, and we cracked each other up all night. We're pretty sure that, after all these years, it might still be the most expensive meal we've had. And we've had a lot. Have we mentioned how much we like good restaurants?
We move in together: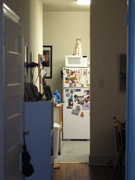 After months and months of spending pretty much every day together and having belongings in both apartments, we decided it was time to "pool our resources" and shack up together.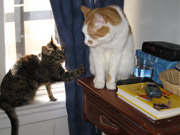 Brian had the bigger, cheaper place. But it was also on South Street. Yes- South Street. Margaret decided that this guy was worth it, and she moved Tigger in first and the rest of her stuff in later. It was a fun place to cohabitate, and there was never a dull moment. Margaret got into the habit of calling the cops from time to time, and Brian was known for eavesdropping on the crazy conversations that took place outside of our window. The cats had some trouble and after a while, South St. lost it's "charm". So it was time to start house shopping!
The house: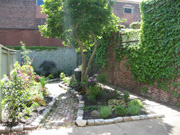 After a long search and one failed attempt at buying a house (let's just say failed inspection?)- we found our beautiful house in South Philly. Moving from South Street to 13th Street was right on time, and we have enjoyed every minute in our house, even with work still to be done. We feel so lucky to have found a place with so much space, in good condition, and with a magnolia tree in a big (in Philadelphia terms) back yard. This is a picture of us with our good friends, who helped us fill our home with color and good energy, the weekend before we moved in. Thanks guys!
The proposal:

We went to Florida for Margaret's birthday, as she often likes a weekend away for the big day. We started off our trip with a visit to Margaret's Uncle Roger in St. Petersburg, Brian's first meeting of the Hogan side of the family. We had a wonderful visit, saw old family photos, drank cocktails made out of freshly squeezed grapefruits from Uncle Roger's back yard, and began our sun-filled mini-vacation.
While Margaret wandered around this fabulous farmers market, Brian snuck in a conversation with Uncle Roger to tell him about his plans to propose. Uncle Roger luckily hid his emotional reaction with his dark sunglasses, and Margaret was clueless as she returned to the boys carrying a couple of smoothies and food. Brian had it planned to try to get Uncle Roger's OK, as a way to pay respect to Margaret's dad.
Then we hit Disneyworld! We spent a day at Universal ----Brian forced Margaret to overcome her terror and ride the Hulk rollercoaster and a day at the Magic Kingdom. What better way to spend Margaret's birthday than being wished "Happy Birthday!" by 16 different Disney characters and park staff! We still aren't sure how they knew.
It was our last full day in Florida, so we planned a special birthday dinner at a fabulous Tapas restaurant that Margaret had been to with her friend Ilisa during their mid-grad school road trip. We had a great dinner, and lots and lots of sangria , and Margaret never caught onto the fact that Brian had a hard box jutting out of his pocket. Seriously- she had no clue. Margaret had a bit too much to drink, and was feeling the fatigue of a hilarious, long day at Disney, and just wanted to go back to the hotel and rest for the rest of the night.
What she didn't know what that Brian had planned some elaborate scheme to get her to the only place that is somewhat non-Disneyfied ---Pleasure Island. So ok- it's still Disney. But there's a waterfront, bars, restaurants, and it's pretty at night. Margaret fought it, and Brian thought that he might end up popping the question in the hotel parking lot. But he convinced Margaret to at least take a walk on the water before the trip was over. And then…well you know the rest. Brian had worked with family friends who are jewelers to pick out a gorgeous ring months ahead of time, and he swept Margaret off her feet with his proposal. We've enjoyed our long engagement, and can't wait to take the next step!